Pacific Valley Bank is proud to support and engage with our local community by sponsoring important cultural, nonprofit, and community-centric events throughout the Salinas Valley and greater Monterey County.
The California Rodeo Salinas (Rodeo) is an important cultural event that has been bringing the community together for family-friendly events since 1911. Not only does the Rodeo positively impact many businesses in the community, it also supports many local nonprofit organizations.  .
The Rodeo took place this year from July 19th through the 22nd at the Salinas Sports Complex. Each year the Rodeo has a number of exciting events that take place each day and this year was no exception.  Some of this year's exciting events included the Kick-Off Concert featuring Blake Shelton, Tough Enough to Wear Pink Night, the Produce Mascot Race, and the Day of Champions
.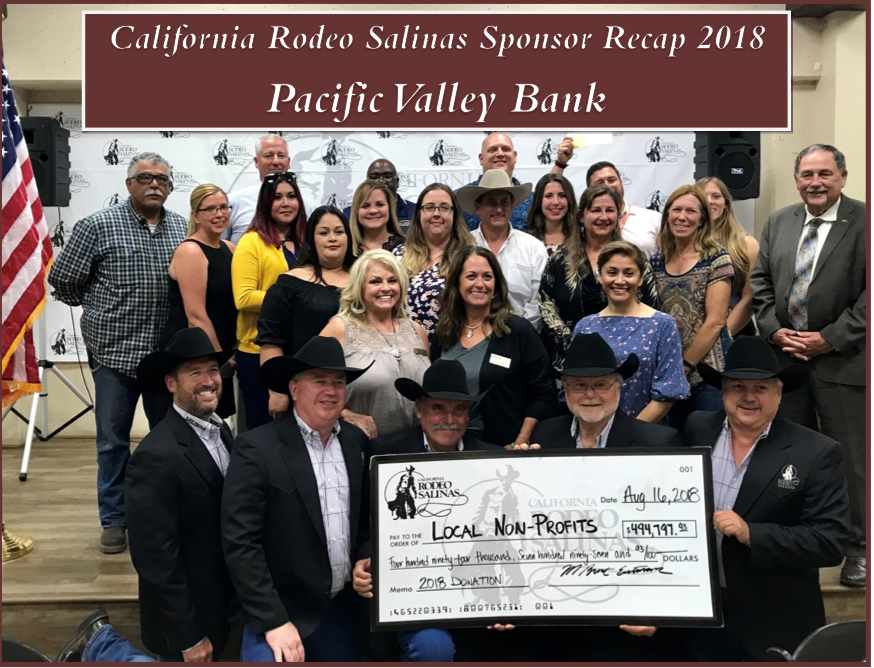 On Friday, July 13th, "Big Week" began with Blake Shelton's kick off concert that gathered a sold-out crowd of 17,500 people. Opening up the Rodeo events on Thursday, July 19thwas the Wrangler Tough Enough to Wear Pink Night, which drew over 9,800 people dressed in pink to raise breast cancer awareness and support research for the disease.  The Wrangler Company incorporated this campaign into their clothing line in 2004 and has raised $25 million for cancer research since.  As a result, all participants in the Rodeo wore Wrangler sponsored pink clothing.
On Friday, July 20th, the highly anticipated Produce Mascot Race had an attendance of 15,719 people, which was nearly a 6% increase from last year's attendance. The Produce Mascot Race pits competing Ag companies against each other, with race participants dressed in their respective companies' mascots. The Mascot Race benefits the Ag Against Hunger program that sends surplus produce to food banks that help feed local families in need. On Sunday, July 22ndhe Pendleton Whiskey Day of Champions had 15,000 in attendance. The event is comprised of champions in each category receiving their 'Salinas' buckles. Champions were named in the following categories: Bareback Riding, Steer Wrestling, Bull Riding, Team Roping, Tie Down Roping, WPRA Barrel Race, Saddle Bronco Riding, and All Around Champion. Sunday was also the Man Up Crusade day presented by the Rodeo's partner YWCA of Monterey County. Man Up Crusade day promotes domestic violence awareness by promoting safe and healthy relationships through education, advocacy and funding.
Pacific Valley Bank is grateful to be in a position to sponsor truly local events like the Rodeo that do so much good for our community. This year Pacific Valley Bank presented the Rodeo's MOST entertaining event: Mutton Busting!
Mutton Busting is similar to bull riding, but instead of professional bull riders riding bulls, it's kids riding sheep, and it's about the cutest thing you'll ever see! The children are ages 4-7, and compete for a championship buckle that is presented to the winner on Sunday. If you have never been to the Mutton Busting at the Rodeo, you need to take your friends and family to see it next year. The kids have a wonderful time and the event is jam packed with laughs and entertainment.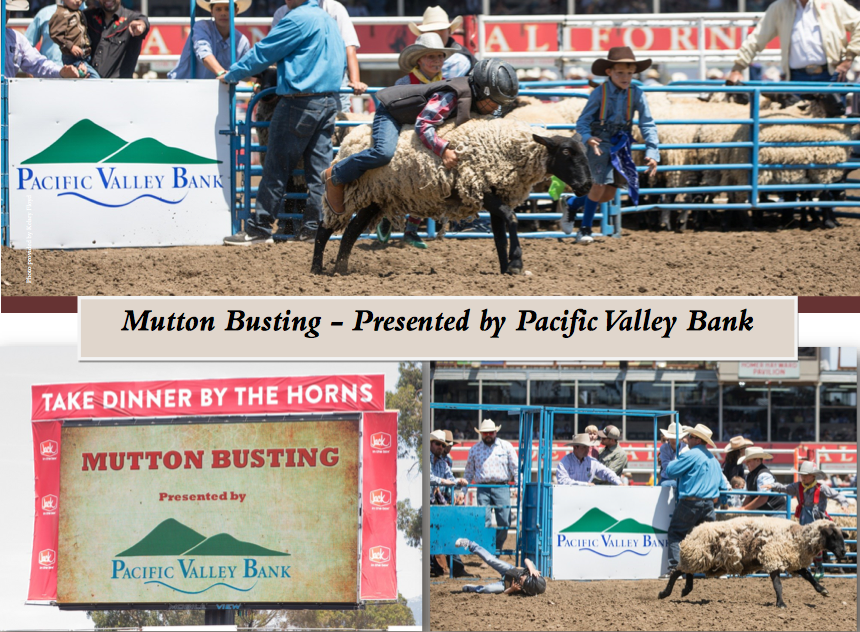 Pacific Valley Bank President and CEO Anker Fanoe stated, "We are proud sponsors of the California Rodeo and teaching kids about the culture of the West, which runs deep here in Monterey County. Our employees and clients have been deeply involved in the California Rodeo for many generations. I am also proud to say that my Grandfather is an inductee in the California Rodeo Hall of Fame."
Pacific Valley Bank is proud to sponsor this annual and memorable event! The Rodeo isn't just a fun event to attend, it is a meaningful and impactful tradition. This tradition keeps the western culture and heritage alive in our community. The Institute for Innovation and Economic development of the College of Business at CSU Monterey Bay did a study of the economic impact of the Rodeo on Salinas and the Monterey County and estimated monetary impact was $4,706,000. The Rodeo's strong economic benefit in addition to the positive impact for local nonprofits, makes it one of the Valley's premiere events. The Pacific Valley Bank Family is excited to continue our partnership with the California Rodeo Salinas for years to come.
We are happy to sponsor the California Rodeo Salinas 2018. According to the Institute for Innovation and Economic Development of the College of Business at CSU Monterey Bay the "direct economic impact of the California Rodeo Salinas and Professional Bull Riding events was estimated to be $4,706,000 . In turn, this new economic activity is estimated to have led to as much as an estimated $11.247 million dollars in total direct and induced economic activity."